-->
Yamuna Foundation for Blue Water
---
Summary of the Foundation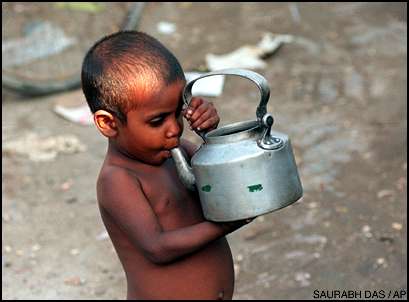 Yamuna River Remediation Project, New Delhi, India
We are working on controlling Environmental Pollution and preserving the natural environment is our prime objective so that we can leave behind a healthy planet for generations to come.

(Picture: A Child Drinking Yamuna Water).

We'd love to have your support in this effort. The "Yamuna river remediation project" in New Delhi, India was started single-handed back in October 1992. Since then we have gained support from various organizations and individuals and have now formed a group of dedicated individuals with one goal, one mind, and one motto of one kind - the "Blue Yamuna".

We have been working on the Yamuna remediation project with some cooperation but no resources or financial support from the Government of Delhi. We have prepared preliminary designs and plans for a wetland treatment system demonstration project back in April 1993, and submitted to the Delhi Water Board. No action has yet been taken by them. Dr. Ken Brakken, soil scientist and forest ecologist, Arvada, CO and Dennis Haag, wildlife biologist, Lanexa, KS, have provided technical support and assistance in this project.

We'd like to get support from others in this endeavor to start installation of the environmental pollution control systems and to save the massive population from facing severe consequences of a serious environmental damage in India.

We have recently formed "Yamuna Foundation for Blue Water (Blue Yamuna), a non-profit organization, and are actively looking for sincere and progressive individuals in India.

The principal members/board of directors of the foundation include several senior level Civil/Environmental Engineers in US and India, Ex-president, and Senior level members of the Lions Club, and President of the National Iron Foundry in Agra, amongst others.

The Yamuna cleanup project will be expanded to include other rivers, estuaries and contaminated waste sites. According to Dr. Kris Agrawal, one of the Executive Directors of the Yamuna Foundation "...these projects are mammoth in size and scope involving all of Southeast Asia and beyond. These projects will require many dynamic individuals who can carry on day to day management of money, machinery, manpower, and as well motivate people."

We'd like to have our headquarters in all major cities commencing in New Delhi, which will be the base headquarters. This is a grass root charitable organization (YAMUNA FOUNDATION FOR BLUE WATER Or simply, BLUE YAMUNA) that would lead the way to a cleaner environment for the next generation.

In the immediate future, we'd like to Install:
Two Floating Aeration Devices ($20,000 each)
A few Deep Pond Systems ($60,000 each) to treat 1,500,000 gallons of raw sewage (i.e. 1.5 MGD) by each one of the Deep Pond Systems. This raw sewage normally flows to the river bypassing any treatment system.
Best viewed with Mozilla Firefox web browser.